Get Your Hands on Swagelok Tools!
Swagelok Southwest offers a full range of tube fitting tools and accessories to help support your installation efforts. Need a Quote? Contact us at (602) 268-4848, (505) 842-0213 or email ssw@swagelok.com.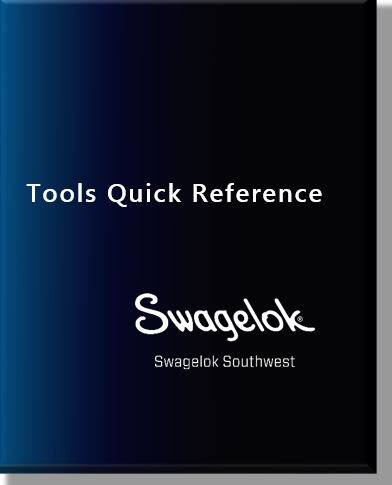 Download the Free Swagelok Tools Quick Reference Guide Get the Guide! Download is instant.
Product Details at a Glance
Includes Swagelok Tool Cases
Links to User's Manuals and Instructional Videos
Browse Tools:
Tube Cutter
The Swagelok tube cutter cuts stainless steel, soft copper and aluminum tubing from 3/16 to 1 in. and 4 to 25 mm outside diameter.
Ordering Number: MS-TC-308 Replacement Wheel: MS-TCW-308
Cutting Tool for Hose and Soft Tubing
Use to cut nylon, polyethylene, or rubber hose, as well as vinyl or PFA tubing to the desired length for field assembl Ordering Number: MS-HC-SC- Replacement Blade: MS-HC-SC-1A-BLD
Tube Deburring Tool
After use of the tube cutter or tube sawing guide, Swagelok deburring tools deburr stainless steel, steel and hard alloy tube ends. ▪ Available in size 3/16 - 1 & 1/2 in. Ordering Number: MS-TDT-24
Hand Tube Benders
Swagelok hand tube benders provide consistent, high-quality bends in tubing made from materials that can be used with Swagelok tube fittings. ▪ Available in Sizes 1/8 - 1/2 in. Ordering Number: MS-HTB-___
The hand tube bender cannot be used for SAF 2507 tubing over 1/4 in. or for medium-pressure tubing.
Depth Marking Tool
Swagelok depth marking tools help ensure that tubing is bottomed on the shoulder inside the Swagelok tube fitting body. ▪ Available in sizes 1/4 - 1 in. Ordering Number: MS-DMT-___
Preswaging Tool
For Swagelok tube fitting installations in close quarters, the Swagelok preswaging tool is a convenient accessory. ▪ Available in female nut sizes 1/16 - 1 in. ▪ Available in male nut sizes 1/16 - 1/2 in. Ordering Number: MS-ST-___
Ratchet Wrenches
The ratchet wrench is designed for use on Swagelok nuts for fitting installation. ▪ Available in sizes 1/8 - 1/2 in. Ordering Number MS-RW-___
Tee Wrenches
The tee wrench provides positive backup support when installing Swagelok union tees and crosses. ▪ Available in sizes 1/4 - 1/2 in. Ordering Number MS-TW-___
Gap Inspection Gauges
Swagelok gap inspection gauges provide assurance to the installer or inspector that the fitting has been sufficiently pulled up on initial installation, whether you are using a Swagelok multihead hydraulic swaging unit (MHSU), air-actuated hydraulic swaging unit (AHSU), or wrench tightening. All metal Swagelok tube fittings are gaugeable, with the exception of a few forged bodies in aluminum. ▪ Available in female nut sizes 1/16 - 1 in. ▪ Available in male nut sizes 1/16 - 1/2 in. Ordering Number MS-IG-___
Combination Seat and Pitch Gauge
Seat and pitch gauges are conveniently combined into one tool. The seat gauge is used to determine end connection seat angles of 45°, 37° and 30°. The pitch gauge is used to identify the thread pitch. Note that a pitch gauge may be Unified (threads per inch), Whitworth (threads per inch) or Metric (millimeters per thread) as marked on the back of each gauge form. Ordering Number: MS-TIK-PG
Tube Sawing Guide
The tube sawing guide holds tubing to enable fast, accurate cutting with a hacksaw. The guide helps reduce tubing preparation time, thereby speeding system assembly. Ordering Number: MS-TSG-16
Vise Grip
Our vise grip is especially designed with a knock-out feature for locking onto a hex-nut during assembly. Ordering Number: MS-14-05
Snoop Liquid Leak Detector
Non-toxic formula. Technical Information:
▪ Composition: Deionized water and a surfactant. ▪ Temperature rating: Can be used over a temperature range of 27 to 200°F (–2 to 93°C). ▪ Available in sizes 2 fl oz, 8 fl oz and 1 gal Ordering Number: MS-SNOOP-___
Real Cool Snoop Liquid Leak Detector
▪ Composition: Deionized water, a surfactant and ethylene glycol to prevent freezing at low temperatures. ▪ Temperature rating: Can be used over a temperature range of –65 to 200°F (–54 to 93°C). ▪ Available in sizes 8 fl oz and 1 gal Ordering Number: MS-RC-SNOOP-___
SWAK
Thread sealant used to lubricate pipe threads to prevent damage due to galling and seizure during assembly
▪ Available in sizes .2 fl oz, 1.69 fl oz, 8.45 fl oz Ordering Number: MS-PTS-___
PTFE Tape Pipe Thread Sealant
▪ Material conforms to Commercial Item Description A-A-58092 ▪ Temperatures up to 450°F (232°C) ▪ Available in sizes 1/8 and up Ordering Number: MS-STR-___
Manual Benchtop Bender
Provides high-quality bends on fractional and metric tubing made from materials that can be used with Swagelok tube fittings. This easy-to-use tube bender reduces installation time and effort as well as the potential for wrinkling or other damage to the tubing during bending. To be used with 1/4 - 1 & 1/4 in. (0.028 - 0.120 in. wall thickness) and 6 - 30 mm O.D. tubing (0.8 - 3.0 mm wall thickness) Ordering Number: MS-BTB-M-E-FKIT
Electric Tube Bender
Provides high-quality bends on fractional and metric tubing made from materials that can be used with Swagelok tube fittings. This easy-to-use tube bender reduces installation time and effort as well as the potential for wrinkling or other damage to the tubing during bending. To be used with 1 - 2 in. O.D. tubing (0.049 - 0.220 in. wall thickness) and 25 - 50 mm O.D. tubing (1.2 - 5.0 mm wall thickness) Ordering Number: MS-TBE-1-1-E-FKIT
Multihead Hydraulic Swaging Unit (MHSU)
Preswages Swagelok ferrules onto tubing prior to assembly and provides Swagelok tube fitting connections that are 100 % gaugeable upon initial installation. Multihead hydraulic and air- actuated hydraulic swaging units place no initial strain on nut or fitting body threads or on body seal surfaces; in addition, it reduces assembly and installation time and operator error. To be used with 1/2 - 2 in. Swagelok fittings. ▪ Available in sizes 1/2 - 1 in. Ordering Number: MS-MHSU-U-E-FKIT-M
▪ Available in sizes 1 - 2 in. Ordering Number: MS-MHSU-O-E-FKIT-M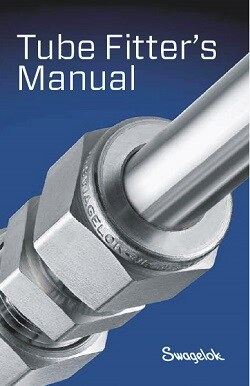 Tube Fitter's Manual
This manual covers tube fitting selection and installation. In addition, it covers topics such as handling tubing, testing and evaluating tube fitting performance, thread identification, pressure ratings and the hidden cost of leakage. Ordering Number: MS-13-03P